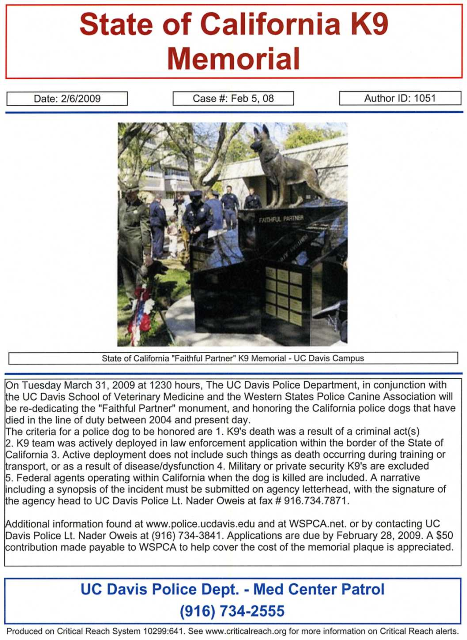 STATE OF CALIFORNIA "FAITHFUL PARTNER" POLICE DOG MEMORIAL
SELECTION CRITERIA:
K9's death was a result of a criminal act(s)

K9 team was actively deployed in law enforcement application within the border of the State of California

Active deployment does not include such things occurring during training or transport, or as a result of disease/dysfunction

Military or private security K9's are excluded

Federal agents operating within California when the dog is killed are included
Please provide a synopsis of the events leading to the death of the police dog including the K9's name, agency, handler's name, date of death, activity engaged in, and links to news articles for verification, etc. This information must be submitted on agency letterhead and signed by the head of the agency. All information will be used by a selection committee that will determine eligibility for recognition. In addition, please include a contact name, phone number, and email address for your agency. AN APPLICATION MUST BE RECEIVED BY FEBRUARY 28, 2009.
A contribution of $50.00, made payable to the Western States Canine Association, to help cover the cost of creating the memorial plaque is appreciated.
FOR MORE INFORMATION, CONTACT LT. NADER OWEIS AT 916.734.3841. ADDITIONAL INFORMATION IS LISTED AT www.police.ucdavis.edu and www.wspca.net.
SUBMIT THE APPLICATION TO LT. NADER OWEIS, UC DAVIS POLICE DEPARTMENT, ONE SHIELDS AVENUE, DAVIS CALIFORNIA, 95616. YOU MAY ALSO FAX THE APPLICATION TO